The main character of the game OverBlood 2. He is characterized by his general punk attitude, passion for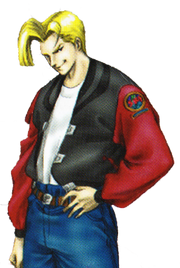 Junk Blade racing. He becomes associated with Raz Karcy, through the events of the game.
Acarno Brani

Game

OverBlood 2

Sex

Male

Height

180cm

Weight

75kg

Country of Origin

Greyland

Profession

'A' Class Junk Blader

Bio

Main Character. Impulsive and Straightforward. Does not worry about trivial things.